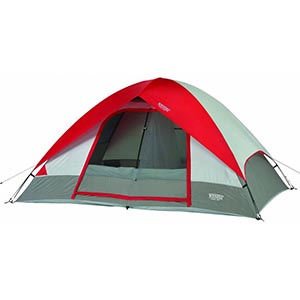 Most people going on different adventures such as camping or hiking have not more than 4 to 5 persons in their group. For group this average, one shouldn't take a tent too small or too large because on trips such as these, carrying stuff in optimal load is necessary and small tents is something they cannot afford. To serve this purpose of yours, we have come up with Wenzel Pine Ridge Tent – 5 Person which is just the right product you need for camping and hiking.
This article is going to be a detailed Wenzel Pine Ridge Tent – 5 Person Review, where 5 person means that a maximum of five people can easily stay in the tent. This tent will also be an ideal for group with 3-4 people. You wouldn't rather choose a 3 person tent for group of this number.
As for introducing you to the features of this test, it includes two room family doom where families with parents and a couple of children can sleep separately. It is constructed with polyester which won't be ruined with water due to rain and has two mesh doors and a window for proper ventilation.
Wenzel Pine Ridge Tent – 5 Person Features.
We will now be reviewing the features of this Wenzel Pine Ridge Tent in detail. Read them so that you can know what you are buying and what it has.
Two Room Domes.
While you are on an adventure with your family, it is obvious that you require a tent where there is a separate room for parents and one for children. This Wenzel Pine Ridge Tent has two room domes where a family consisting of two parents and 2-3 children can sleep easily in these separate room domes. These are separated by a polyester sheet which is not transparent and it works like a cabin with two rooms.
Polyester Weather Shield.
You know that when you have a product made of polyester, you are kind of on safe side from all the weather conditions. Whether it is snowing outside or it is raining, this polyester built tent is your armor against all kinds of weather conditions.
See the list of best Wenzel Camping tents or see our buying guide of all brands with their best camping tents of 2017.
Mesh Door, Windows, and Roof.
One thing which you require in your camping tent for ventilation is a mesh roof, two windows and a mesh door. This will do proper ventilation in the tent and you will feel quite fresh. These doors and roofs will pass cross breeze. The product also has shock corded fiber glass which is a premium feature of tent products from Wenzel so that they can setup easily.
Pros.
Two Mesh Windows, a Roof, and a Door for proper ventilation.
Made of Polyester and withstand any weather condition.
Has a divider curtain for privacy.
Can easily fit in a family or friends group of 5.
Cons.
Comparatively expensive than most products.
A little too heavy to be carried easily.
Final Verdict Wenzel Pine Ridge Tent – 5 Person Review
There is no doubt that we will recommend you a product like Wenzel Pine Ridge Tent – 5 Person for your small family to be hanging out on adventures and have a proper place for resting. If it doesn't exceed your budget, you can get it right now.