It is not difficult to get tent in the market today but what you buy makes the difference. There are manufacturers of good rated tent who claim to offer best tents but not all of these are successful in their claims. One of the popular manufacturers that customers highly recommend and about which are going to talk about in this article are Best Wenzel camping tent manufacturers. These offer tents that are designed & built the tents since 1887. Tents are of highest quality made by them in different ranges from small pup tent for 2 persons to massive tents for 10 or more persons. 10'x10' canopy makes great sunshade for summer tours and act as waterproof cover during rainy season. Wenzel tents are made from waterproof fabric. Fabric used in construction of these tents is polyester with polyurethane coating that is great water repellant. There are welded seams in the tents manufactured by Wenzel which prevents seeping in of water in the tent.
Feaured Best Wenzel Camping Tents 2021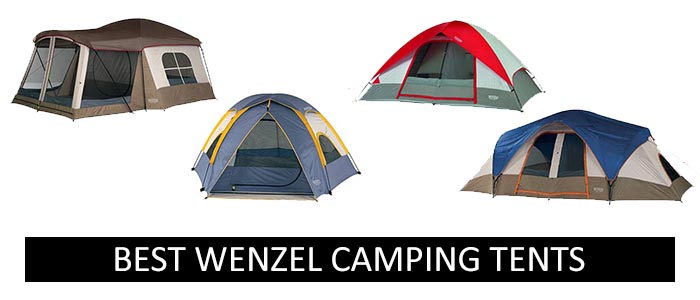 WHY WENZEL TENTS ARE SO POPULAR
There are several reasons that make up basis for popularity of top Wenzel tents. They very carefully design the tents and carry on construction. Customers` reviews for Wenzel as per Wenzel camping tent reviews are highly satisfactory. For example Amazon customer reviews are with 4 to 5 stars. On average customers seem to be satisfied with its use. These tents get high rankings due to their well-made structure and well hold up ability. These tents from Wenzel are popular due to their affordability. Majority of tents by Wenzel cost around $100 mark. In case of good larger tents that are multi-room, cost may reach @200. These are still good deal in case of large Wenzel camping tents. Wenzel tents are top rated and preferred by customers over most other tents due to their affordability, design and durability.
Wenzel 8 person Klondike tent is great for enjoying camping with friends or family. Its measurement is 16ftx11ft. It can accommodate eight persons easily. Five persons can rest in its interior 98 sq. space whereas screen room with its 60 sq. ft. can accommodate 3 persons. It is big enough to allow standing inside. Screen room of this Wenzel Klondike tent is for sun sheltering, and can also be used as picnic room, gear room as well as relaxing room. It is made bugs proof with its full mesh-roof & 2 mesh windows that allow incoming of fresh breeze. In order to let breeze in, there is a rear vent mesh in this durable Wenzel camping tent. Fabric is armor polyester with water resistant polyurethane coating that protects completely. Its threads, webbing and zippers are made from best quality water repellant stuff for enforcing critical areas. This is a durable best quality Wenzel tent form Wenzel that can withstand even high winds. There are 2 hanging pockets in this tent that make space for easy access to items with a storage duffel & 10 years warranty against all kinds of defects.Read the full Wenzel 8 Person Klondike Tent review here.
This Wenzel Alpine 3 persons tent is a lightweight and easily adjustable tent that can be stand and taken down easily with its convenient build. This is a great tent for all kinds of camping adventures. There is single room in this tent with dimensions of 8×8.5 ft. with 3rd pole creating much vestibule and giving storing gear & weather protection as well. At maximum it can accommodate 3 people. Best Wenzel Alpine 3 persons tent is constructed in a D structured stylish door, mesh window with arrangement for cross ventilation. There is hanging gear-pocket and gear loft in this camo as well with an integrated muddy mat with its drainage strip. Fiberglass frame is shock corded and there are pole pockets for quick setup. As per Wenzel Alpine tent review is a durable camp that is constructed with polyurethane coating to combat water seepage. Double stitched seams and lap felled for providing shingle effects against water & there are zippers, threads and webs all water repellant. It has dimensions of 8c8.5ft with central height of 48 inches. It is a great camping tent for adventures that can accommodate 3 persons. For storage there is a duffle bag.Read the full WENZEL ALPINE TENT – 3 PERSONS Review.
This Wenzel great basin tent for ten persons is a whole house in itself. It is just like a cabin so that you don't need looking for any rental for letting your family members enjoy outdoors. This tent from Wenzel is for adventurer persons who love to travel and explore new places. It is a multi-diameter tent that is made from shock-cord poles of fiberglass to allow setting up quickly & easily. It also provides good headroom that is above average. Polyester used in its construction is a durable material that is used in conjunction with polyethylene floor. There is removable fly with ridge pole for creating awnings. Door of this Best Wenzel basin tent is D style that provides entrance to the tent and features loft & pockets to give gear storage. As per Wenzel Basin best tent review dimensions of this tent are 216Lx120Wx78H. It can accommodate 10 persons in the tent with two dividers that are removable. These dividers create 3 rooms in total. Poles are finger glass that can be quickly setup. There is a door and 4 windows with the mesh vents to allow airflow. There are two storage pockets as well.Read the full WENZEL GREAT BASIN 10 PERSON TENT Reviwe.
WENZEL PINE RIDGE TENT – 5 PERSONS
This Wenzel camping pine ridge rent is for 5 persons. It is one of the best-selling and highly versatile tents from Wenzel that gives the feelings of a suite outdoor. It is based on newly reflect system which allows enjoying a useful and even light glow all around with a flashlight or a headlight only. Wenzel camp for 5 persons has a curtain that is removable and let`s living persons to easily create 2 separate & private sleeping places. Only thing it lacks is the pine ridge on pillow. With a capacity of 5 persons this is a good enough outdoor living space with 2 doors and 3 windows. Wenzel pine travel tent is able to withstand heavy rain as well as heavy wind. It is durable and can easily withstand pressure of bad weather. This is an ideal tent for small families so that whole family can rest at the same place. It comes with polyurethane coating. As per Wenzel pine tent review it is structured such that it allows passage of cross breeze. Its fiberglass poles are shock corded with grommet attachment that makes it easy to set. It is a good enough tent that gives really great outdoor experience.Read the full WENZEL PINE RIDGE TENT – 5 PERSONS Review.
As is name indicates, this is the Wenzel Sprout tent for kids that perfectly accommodates 2 persons. It is a great tent for backpacking and hiking that is great and ideal for trips with lighter camping plans. It has polyethylene welded floor with removable fly that keeps the moisture out. Poles of fiberglass fit to pockets on tent quite quickly and are easy to setup as well. After you reach an ideal spot for camping, it will take just few minutes for setup. There is no rocket science ad all is simple. Its roof is made from mesh vent that let`s circulation of air and also prevents stuffiness. Its door is d styled like other Wenzel camping tents that allows easy move in & out. It easily stores required stuff in its storage duffel. It is a great product from Wenzel that makes the perfect gift for your kids. As per Wenzel sprout kids tent, it is a versatile and comfortable high standard tent. Having this tent makes you worry free because of its water repellant construction. There is proper arrangement for ventilation in the form of windows. This Wenzel Sprout tent for 2 persons is easy to set and comes with minimum hassle.Read the full WENZEL SPROUT KIDS TENT – 2 PERSONS Review.
Like other tents that come with varying capacity, this tent from Wenzel is for 9 persons. This tent is a home in itself when you are not home. This is a pocket friendly tent that is made for a large family that is a travelling lover. It is big sized but its price is very less as compared to its size and it is greatly comfortable as well. Its setup is much easy and so is its assembling. Wenzel Kodiak 9 persons tent is just a pin & ring process that is time saving. Its base is 14×14 ft. that gives good enough space for accommodating 9 persons. This best Wenzel Kodiak tent is 7 feet high from the center that allows easy standing of persons in it. Its door is d styled with two bay windows and two picture windows. Roof is good enough for visibility that also allows crossing of fresh breeze. Its floor is polyethylene and welded with sonic seal that makes it tough and ensures its dryness. There is divider to divide 2 separate rooms. Sidewalls of this tent as per Wenzel Kodiak tent reviews from customers is are straight and completely covered for additional weather protection.Read the full WENZEL KODIAK TENT – 9 PERSONS Review.
This is another amazing tent from Wenzel that is best for stay of 5 persons at once. This will be your choice in your next adventure due to its features that differentiate it from all other tents of same genre. Its setup is quite easy whereas its frame design is with hoop pole. Side & rear walls of this mesh tent provide great ventilation. There is rain fly in this Wenzel dome tent for 5 persons that is removable and is waterproof as well with its seam type. There is a storage bag as well. There is no need for footprint as this is fairly decent flooring with additional benefit of being waterproof. When price and benefits are compared, benefits get lead. It is an excellently great tent from Wenzel with capacity to manage medium size family. It has durable seams and can withstand tough weather. It is durable and will be your companion in your adventures for a long duration without any damage or failing even after multiple uses. It is high enough to allow standing inside it and has good arrangement for ventilation. It is a very lightweight dome tent that will make you happy as there is no drawback.Read the full WENZEL DOME TENT (5 PERSON) Review
This is Wenzel smart shade canopy that takes just minutes to setup. There are 3 settings on its legs where you can adjust its height as per your needs. Tallest height will reach at about 76 inches. There are guy outs and batwings that provide additional stability during windy conditions. It has patented stabilizer arms within each corner that ensures further even support. Its buttons are easy to release and do not pinch fingers. Assembly is easy and quick and takes just counted minutes. Wenzel best canopy is a smart shade Wenzel canopy that is expandable. It has a duffel wheeled bag that makes it easy to carry. Its height at the central point is 115 inches. It requires no tools for fixing or maintenance. Wenzel smart shade canopy review indicates that it is wide enough and gives protection against shade & rain up-to 10 square feet. Its steel frame is sturdy and its release buttons are easy.  It has stabilizer arms within each corner. There are guy outs and bat wings that provide additional stability during windy season. Its deck feed is versatile and stable and there are anchor pints as well for screws or stakes. Overall it is a good to utilize item.Read the full WENZEL SMARTSHADE CANOPY 10 X 10 Review.
This Wenzel great basin tent for 9 persons is a spacious creation that is water resistant with many other amazing features. Its dimensions are 18x10ft. that can let up-to 9 persons to sleep inside it in its 2 rooms. These rooms are separated with a divider. It is an ideal tent from Wenzel for both small and large families that want great gear. Great Wenzel basin tent is constructed from rugged and water repellant armor polyester. This is coated with the polyurethane to give additional reliability and prevents water from coming in. This feature also keeps it warm. Its floor style is tub structured that is welded & not sewed. Wenzel best tent 2017 eliminates needle hole which otherwise lead to insertion of water and thus seepage. There are multiple ventilation points in this tent with 2 mesh D styled doors & 2 mesh polyester windows. All these are supported by advanced ventilation system to improve overall flow of air in and out. It is easy to assemble and has a fiberglass frame. As per Wenzel great basin tent review, it provides enough sleeping space for 9 persons. Divider divides the space to 2 separate rooms so that there is no mess and visitors get enough privacy.Read the full WENZEL GREAT BASIN TENT – 9 PERSONS Review.
WENZEL SUN VALLEY SCREEN HOUSE
This is a house as it name indicates. It is a great Wenzel camp with 140 sq. ft. area. Height is 7 foot tall whereas height of ceiling is 2 inches. This sun-valley house from Wenzel is good as it creates screened porch that is wanted by campers. It delivers shelter and also gives protection insects whenever needed whether it is from backyard, campsite, beach or any other space. It features beautiful mesh walls with 2 large T shaped inverted doors. Floor is made from welded polyethylene that is easy to set up and gives additional stability. This best Wenzel screen house also allows placement of picnic table after it is finely set up. There are many pole intersections that ensure extra stability needed for standing up to elements. Feet setup is also quite fast that leads to hassle free assembling. This Wenzel screen house has steel stakes that are good for secure placement with convenient carrying duffel. It is the great shelter for your all kind of camping needs. There are also ropes for making it extra stable. It weighs much less at about 20 pounds. It is great if you are planning to go on a trip with the entire family. Happy vacations.Read the full WENZEL SUN VALLEY SCREEN HOUSE Review.