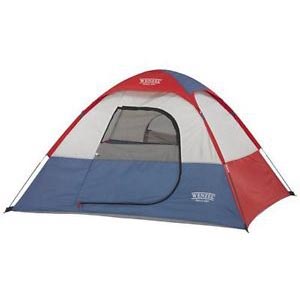 Even though the title may confuse you because it says Wenzel Sprout Kids Tent, this is also good for other people who are planning to go out on camping or other adventures. We have reviewed some of the top tent products from Wenzel before and here we are again with another product which is designed only for a couple of people. The name of the product is Wenzel Sprout Kids Tent – 2 Person which we are going to review today.
In this Wenzel Sprout Kids Tent – 2 Person Review, you will be able to read every feature of the product in detail. This will help you in understanding the advantages and disadvantages of buying the product. You will also be get some instructions in order to setup the tent when you reach the place.
Some of the top features of this Wenzel 2 person tent include a shock corded fiber glass which will assist you in setting this up easily, has a two person children which comes with a removable fly, mesh rooms, windows, and vents for proper ventilation in and out of the tent.
Let us now move on to a detailed review of these features.
Wenzel Sprout Kids Tent – 2 Person Features.
All the features introduced in one of above paragraphs need some detailed review so let's take a look.
Shock Corded Fiber Glass.
If you have seen other Wenzel products on our site and read their reviews, you must have noticed this as a common feature. This is one thing which you need while you want to bring yourself some ease. With this feature, it won't be difficult at all to setup these tents in the ground. All you have got to do is to put it in the ground and set it there.
Polyester as Armor.
One thing which serves as an Armor for your tent is its polyester which doesn't get ruined with water or other stuff. While you are camping in snowy, rainy, or extreme sunny conditions, you can rest with full ease in your tent and the polyester and polyethylene built are these for you to provide some comfort.
Mesh Windows, Vents, and Roof.
Your tent serves as a home and while you have this Wenzel Sprout Kids Tent – 2 Person, you get a mesh windows, a vent for proper ventilation, a back door which can be used for different purposes and a removable fly. This will help you when you want to sleep peacefully in an area full of insects and mosquitoes.
See the list of best Wenzel Camping tents or see our buying guide of all brands with their best camping tents of 2019.
Pros.
A Dome tent whose fly can be removed and attached.
Save yourself for any condition with polyester which serves as an armor.
Shock Corded Fiber to be setup easily.
Has Mesh stuff such as Windows and a door.
Good for kids and adults.
Cons.
Not a product you would rely on in extreme weather.
For a couple of young people or kids setting out on a journey, this would be a perfect product to own. You may however, decide that depending upon space you cover.