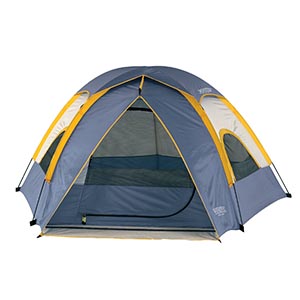 Going on camping and hiking adventures is something which most people love to do in their summer vacations. You cannot expect to find rest houses there and that is when you have got to get a tent for you. If what you have is a small group of people mainly 2 or 3 person, the product you can get is Wenzel Alpine Tent – 3 Person.
In this Wenzel Alpine Tent – 3 Person Review, we will give you a detailed and unbiased review as much as we can so that you will be able to decide whether the product is right one for you. A tent with space enough for 3 persons, shock-corded fiber glass so that you will be able to set it up with ease, and 2 mesh windows, and integrated mud mat stand up as the top features of this tent.
Wenzel Alpine Tent – 3 Person is a tent based on the alpine design which is something you need while going on different camping adventures. With this detailed review and Wenzel Alpine tent instructions, you will be the one enjoying your adventures to the most. Let us begin with the feature review now.
See the list of best Wenzel Camping tents or see our buying guide of all brands with their best camping tents of 2019.
This tent product has many mention able features some of them have already been introduced. Let us now move on to the detailed review of these features whether how these features can benefit you.
3-Pole Pentadome Tent.
What you need is a tent which should be strong enough to fit in the ground strongly and with this Wenzel Alpine Tent, all of such needs are fulfilled. 3-Pole tent will hold out just perfectly in the ground and will be able to withstand a little hard weather conditions. However, if the weather conditions get too extreme, this could be a thing to worry about.
Easy to Setup.
The tent in review is not something which would take hours to setup but in fact, due to its shock-corded fiber glass, you can easily fit it within the ground and it would only take few seconds. Even if you are along on your adventure, you can easily fit this tent in the ground alone and quick.
Two Mesh Windows for Ventilation.
If you can get proper ventilation in your tent, it will be best for your summer vacation adventure. Yes, you can get this feature as well with this Wenzel Alpine tent which has installed two mesh windows in it and it will just be perfect for the proper ventilation.
Pros.
3 poles to fit in easily and hold out in different weather conditions.
It is also quite economical.
During summer vacations, it features proper mesh windows for ventilation.
Cons.
Wouldn't be good if number of people exceeds
Extreme weather conditions would be bothering.
Make sure that the group of people you are taking on camping doesn't exceed the sum of 3 otherwise, we wouldn't recommend you this product. However, with an average budget and group two or three persons, just go for it.