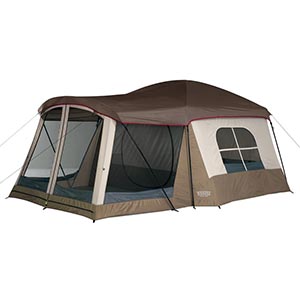 If you have a group of friends or family who love going camping but what you are missing is a good camping tent, it would all be a waste. This is why today, we have come up with this Wenzel 8 Person Klondike Tent which is one of the best tents you can order online good for camping and for other uses.
In this Wenzel 8 Person Klondike Tent Review, we are going to bring a detailed review on some major features, pros and cons, quality, and price of the product. This will make it quite easier for you to decide the tent suits your needs or not. You will also be able to read the Wenzel 8 Person Klondike Tent instruction in order to learn how to better use it.
As promised, let us now give you a quick review of some of the major features of this product.
Enough for 8 Persons.
If you have a large family or a group of friends, this tent can fit in 8 people easily. It also features a built-in screen room within the tent so that you can fit in groups on both sides of the screen. However, for large family needs, this wouldn't be able to fit everyone and in hardened weather conditions, it will not hold.
Double-Skated Power Corners.
When you go for normal and substandard tents, they are not going to holdout in extreme weather conditions and that is when you can use Double-Skated Power Corners features in this Wenzel 8 Person Klondike Tent. With these power corners, the tent will be able to hold in hard weather conditions and will give you maximum safety needed. It does not also need strong fitness to fit in the ground and it would do easily with its power corners.
Sun Room and Screened Second Room.
While camping in winters, if you want the sunlight to cross the tent and give you some warmth, you can use the sun room and screened room features of this tent. Also, when you want to split the family or friend in two groups to sleep separately, its screening second room feature is the one you will want. This is something which you don't get with most of the tent products.
Large Dimensions and Optimal Weight.
If the tent you are carrying for your picnic and camping is too heavy for your group to carry, it can be something really bothering. Luckily, this 8 person tent weighs only 27.3 pounds which can be carried easily on any camping or hiking adventures. Also, because of its large dimensions of 16×6.5×11, this will be enough space for all of you.
See the list of best Wenzel Camping tents or see our buying guide of all brands with their best camping tents of 2017.
Pros.
Room large enough for a big group.
Has sun room for the sunlight.
Has screened rooms to sleep separately.
High quality product.
Power corners hold out in extreme weather.
Cons.
May not be the best tent in heavy rain.
Well, if it's in your budget and you have a large group to be going for camping, there is not a better product you can get. Price however, maybe the reason you will not want to get this one.