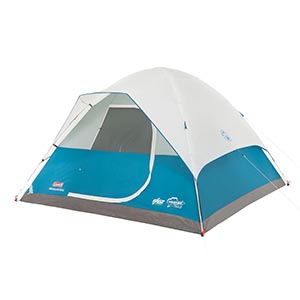 The Coleman Longs Peak Dome Tent is a fine tent for those who like to camp out in fair weather. Unlike low priced and ordinary tents, its walls don't bend in when the wind starts to pick up. It has more durable floor fabric material which magnificently prevents ground moisture from getting wet.
We bring reviews which are meant to give you over a good look of the features, advantages and disadvantages of different products so that you can know what you are paying for. Let us begin with our Coleman Longs Peak Camping Tent Review.
Easy Set up and Breakdown
This dome style tent includes a 15-minute easy setup and goes up pretty simple because of the simplicity of its configuration. Orienting the rain fly, on the other hand, is a confusing thing to understand and can be only done if you get its knowledge from the brand. Besides, the Coleman Longs Peak Tent has a simple and straightforward breakdown process right from folding it to fitting it into the carrying bag.
Functionality
With a 10×10 square, the dome style tent can be easily divided up to provide space to the campers. This even attracts those who don't want to stay against the sidewalls. The Coleman Longs Peak has one door with a large D shape for an easy way to get in and out of it. Moreover, the tent includes a small awning which is connected to a firm pole, and includes an attractive doormat. Coleman has used same fabric type for the tent, its floor and doormat. Additionally, its three walls aside from the door wall have large-sized mesh panels which make the best source to get a clear view of outside as soon as you remove the rain fly. In 2019 it's one of the best Coleman Tents so far.
Weather Resistant
The Coleman Longs Peak 6Person Dome Tent combines small awning and large mesh wall which make it a perfect tent choice for mild to warmer and dry weather. It's, however, not very suitable for cool and wet settings. Furthermore, its pole structure has no enough support that's required to withstand when wind starts picking up. Therefore, there is a likelihood of the tent to collapse due to the heavy pressure after a few solid gusts.
Read the full buyer guide on best camping tents to see which one is best of 2019
Pros
The Coleman Longs Peak accommodates six people for a camping trip.
It includes a durable bathtub construction floor.
The tent provides reasonable amount of privacy when you are sleeping inside it.
It has a large size carrying bag to store the tent.
Cons
The Coleman Longs Dome Tent has a confusing process of installing the rain fly.
Its Fast Pitch System is quite difficult for new campers to get used to it.
Its windward side is likely to bow inward in a moderate windy cycle.
The tent comes with only two pockets which disappoints users of a 6 person tent.
The Coleman Longs Peak Tent is designed to cater to the group of 6 campers. Made with durable materials, the tent is suitable for mild weather conditions though it also has the ability to prevent ground moisture from getting inside the tent. In simple words, this product is worth buying for an outside picnic with your family and young children.