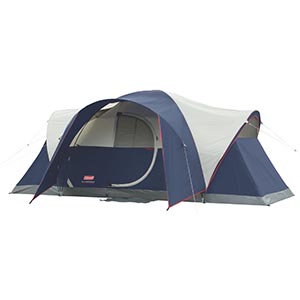 Whether it is your big family you are going out with, a bunch of regular friends, a whole class of school friends, or a company of 7-8 soldiers, what you need to stay out in the night and sleep peacefully is a tent where all of you can accommodate well while remaining safe from changing weather conditions and all peaceful and good. Yes, this is possible when you get a single room tent made for eight people. One which we have brought for you today is Coleman Montana 8-Person Tent which is known for its hi-fi features.
Some of the top features of this eight person tent include 74 inch high tent having poles which are 11 mm made of fiberglass, a dome structure which has been modified in advanced way, inner tent sheet made of polyester, and one year of manufacturer guarantee. Introducing these features only wouldn't work so we will now move on to our Coleman Montana camping Tent Review where you will have an even better look of the product.
Coleman Montana 8-Person Tent Features
The features being introduced above do need to be reviewed briefly in order to let customers know how they would benefit from them. So let's begin with that now.
74-Inch Tall Tent enough for Eight People
Even though it is a one room tent and since most people are concerned about whether how many people will they be able to fit in their dome tent, this one is quite a solution for them. In this Coleman Montana camping Tent, a group of people as large as containing 8 persons can sleep and stay easily. This is better suited for friends and other groups since in one room tent you cannot get any privacy.In 2017 it's one of the best Coleman Tents so far.
Polyester build Inner Tent and Polyethylene floor
Since different materials have different qualities of resistance and others, that is why they matter the most. The most recommended tent is the one which is made of polyester because this is a material which provides maximum heat and water resistance just like this Coleman Montana 8 Person Tent has. It also has a polyethylene floor which is also very comfortable, impenetrable, and good to rest on.
Advanced Dome Structure and Access to Electrical Port
This tent's dome structure has been modified in a way that it gives an extra level of comfort and ease to people especially family car campers, scout leaders, extended camping trips and this features also makes it very easy to transport. Having access to an electrical port would be event beneficial which is features in this camping tent.
One-Year Manufacturer Warranty
With Coleman Montana 8-Person Tent, you get one year of manufacturer warranty so in case of any issue, you can get it fixed right from the company.
Read the full buyer guide on best camping tents to see which one is best of 2019
Pros
Made of Polyester and Polyethylene.
Large and Modified Dome Tent.
Has access to an Electrical Port.
Large Door and Reverse Angle Windows.
Large enough for eight people.
Cons
A price of $200+ may bother some buyers.
Not for extreme weather conditions.
Doesn't features Mesh Windows or Vents.
This tent fulfills your needs of accommodating more people and if people are not the problem, you should go for a tent with mesh windows and tents otherwise, we will suggest to settle for this one.