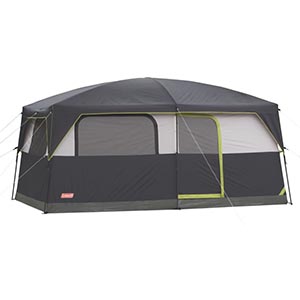 As the name suggests, Coleman Prairie Breeze Camping Tent comes with a spacious and smooth sleeping environment which can comfortably accommodate nine persons inside. The main fly seams of the tent are factory-sealed and welded so they can withstand different weather conditions such as strong winds. Let us move on to our primary objective of doing Coleman Prairie Breeze 9-Person Review.
Furthermore, the tent has a LED light along with a fine fan system that is given to offer illumination as well as to let air widely circulate inside the camp. Also, it's strong enough in order to resist rainfall and winds hence makes you ensure that your family members or friends won't get wet or cold during any tough weather conditions whenever you're camping outside.
This tent is the best choice for those who love to enjoy camping outside the home or even on a camping trip. Like other camping products by Colman, this tent is very well-designed and made with high quality material. It can stand against the toughest weather conditions outside and help you ensure your outdoor trips comfortable, safe and sound.In 2019 it's one of the best Coleman Tents so far.
Coleman Prairie Breeze Camping Tent Features:
Spacious and Comfortable
Colman's tents aim at serving camping needs of all kinds. This tent is magnificently perfect and well-suited for extended camping for group of friends and big families. With enough space accommodating nine adults in addition to two beds of queen size, Coleman Prairie Breeze 9-Person Cabin Tent, Black and Grey Finish is the best for big families of campers. Moreover, it has enough space that allows you to house miscellaneous items such as sleeping materials, bags and so forth.
Best for Strong Windy Conditions
Coleman Prairie Breeze 9 Person Cabin Tent is a waterproof tent hence can best serve you during rainy season. Moreover, you can also use it on the beaches. It has a rain fly which can be used to adjust the roof of the tent during both day and hours of darkness. Also, the tent is strong enough in order to withstand winds allowing you to rest well anytime after a hard trek. However, it is not suitable to be used in cold weather as it doesn't have wind barriers that are needed to dispel potentially icy winds.
Basic Features
With 14 x 10 ft. and 7 ft. center height, the tent is designed with vertical walls, and has more living space.  It has LED lighting system in addition to a CPX® 6 compatible fan that work through 4D batteries. In addition, you can also use one CPX® 6 cartridge to operate fan and lighting system inside the tent. It comes with mesh roof, and detachable rain fly. Additionally, Coleman Prairie Breeze 9Person Cabin Tent has 6 over-sized windows, and snag-free, easy and incessant pole sleeves
Read the full buyer guide on best camping tents to see which one is best of 2019
Pros
It's big enough to house nine people and two queen size beds.
It comes with a carrying bag for easy transport, and has separate sacks to ease the poles and stakes.
It has light and cooling system for illumination and air circulation.
It has adjustable rain fly to help you withstand during rainy weather.
It comes with 6 big windows that are best for getting fresh air inside the camp.
Cons
Coleman Prairie Breeze Tent can be tricky to handle alone hence requires at least 2 persons to set up.
Despite having a fan system, it doesn't provide enough ventilation if you camp in hot season.
The brand doesn't offer replacement parts of the tent so you need to be very careful while using the tent.
While you need everything such as a tent full of tightening and with all these features an economical one, you should definitely go for it.