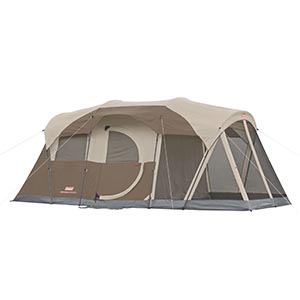 The Coleman WeatherMaster Screened Tent is a spacious, easy-to-assemble, and reasonably priced camp. It provides a good option to camp out with friends or spend family hours outdoors. This cabin-style tent comes with enough space that can comfortably accommodate 6 people in addition to 2 queen size air beds. With a center height of 6 feet and 8 inches the tent gives tall users enough headroom for standing and walking inside. Moreover, it has a hinged door and large-sized windows that ensure proper air circulation.
Usage
The tent tends to be the right choice for those who love to camp out in summer. It has a screened porch that is designed to facilitate you and your family to take pleasure of outdoor activities with no fear of mosquitos' bites. Additionally, it's waterproof so the rain doesn't wet you when you are inside the tent. It also includes the WeatherTec system and patented welded floor in addition to inverted seams that come handy in preventing water from getting into the camp. The Coleman WeatherMaster 6-Person Screened tent, on the other hand, is not well suited for winters. Also, it's not recommended to use this tent for in a heavy snowstorm.In 2019 it's one of the best Coleman Tents so far.
Specifications
The Coleman WeatherMaster 6-Person Screened tent is made of
Polyester, and comes in brown color. Moreover, it can be divided into two rooms allowing 6 people to sleep in comfortably. It has the dimensions of 17-by-9 footprint along with 6 feet and 10 inch of center height. The tent has two doors one of which is hinged. It has floor-less screened room that gives extra ventilation in hot days. Also, it has a place for gathering and meals in addition to a protected storage area.
Read the full buyer guide on best camping tents to see which one is best of 2017
Pros
The Coleman WeatherMaster 6-Person Screened tent has a relatively easy-to-assemble setup.
It is large enough to accommodate six persons along with miscellaneous items and 2 air beds.
It has a screened porch that provides extra space for some chairs, table, and air cooler.
It includes enough room to walk around and sufficient ventilation even during warm days.
It can be split into two rooms.
The tent has mesh ceiling that is designed to help campers enjoy the stars in the night.
It includes a big storage bag to keep the camp inside which is big enough to accommodate the tent.
Cons
The tent doesn't come with any replacement parts.
It doesn't stop leakage during heavy rains.
Though, the tent has an easy-to-assemble setup, it cannot be handled by a single person.
It has thin walls along with the seams that are not very tough and sturdy.
It has a zippered-screen divider that's connected to the screened interior and the porch. This may cause the campers to have problems in chilly weather because of cold air coming inside the camp.
The Coleman WeatherMaster 6 person screened tent is not a perfect camping option. However, it is ideal for those who want a camp that's roomy, easy-to-use and light on the pocket. The tent can easily house 2 queen size air-beds, and allows you to walk around this tent. It provides enough ventilation making the tent a good choice for camping during summers.